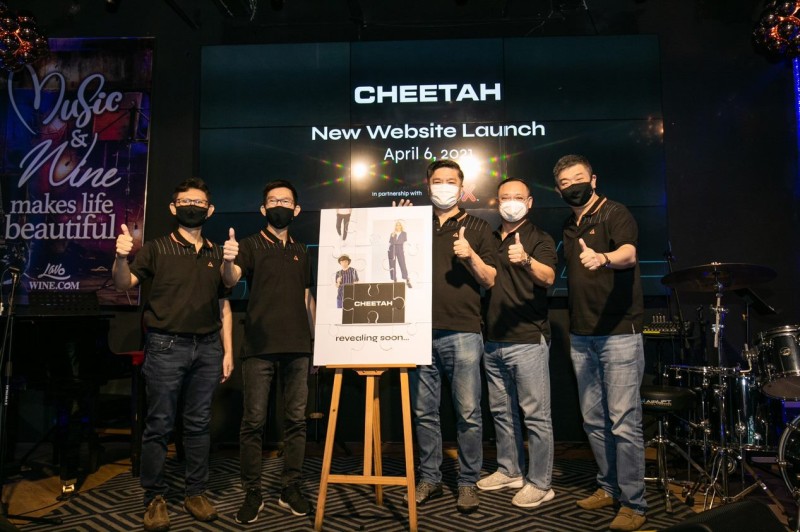 Cheetah launched its redesigned website today, to accommodate more users and transactions, taking steps to digitalise its traditional business model to capture younger, more vibrant online audience, in a market that is worth RM16.4 billion in Malaysia. Cheetah expects to generate additional RM25 million per year in revenue through this partnership.
It has also expanded its presence from its current 700 in-store locations and 2 flagship outlets to reach wider audiences through a network of 20,000 distributors with its partnership with XOX Bhd. Cheetah also have access to a ready customer base of 2.5 million subscribers through XOX's Black App.
Mr Roy Ho Yew Kee, Executive Director of Cheetah Holdings Berhad and Mr Ng Kok Heng, Group Chief Executive Officer of XOX Mobile were present at the launch.
"Businesses are evolving. We must evolve too. Previously, we started on a smaller scale online to try out the market but when the pandemic hit, we must expand online to sustain as foot traffic to departmental stores are close to zero. We are retraining our human resource to equip them with digital marketing skills," said Roy Ho, Executive Director of Cheetah Holdings.
"Our collaboration with XOX is not limited to only e-commerce marketplace. We will explore using TraX, which is a traceability software by XOX in partnership with Antchain blockchain technology. Consumers can track the supply chain of our products, ensuring transparent product sustainability, production efficiency and regulatory compliance," he added further.
XOX's Black App will carry a variety of Cheetah's products, reaching out to its current network of distribution dealers. By the end of April, XOX will open its Black Market place to its 2.5 million subscribers. XOX is looking to introduce buy now pay later (BNPL) concept on its app too, as part of its natural progression into fintech.
"XOX is consistently on the lookout for more products to help our dealers sell more. That translates to our revenue as well. Our acquisition of Cheetah is in line with our goals to add value to our dealers. We are committed to bulk break all the products that we carry and offer competitive prices to the market," Mr Ng Kok Heng highlighted.
To celebrate the occasion, Cheetah is running a special promotion. Every purchase of RM100 and above will be entitled for a RM35.00 discount. Exclusive for XOX's subscribers, Cheetah is offering additional 10% discount. Full range of Cheetah's product line is available for customers to purchase.
Cheetah's redesigned website can be accessed at www.cheetah.com.my.
Cheetah Holdings Berhad
XOX Berhad
6 April 2021
---
About XOX Bhd
XOX Berhad, is an innovative company that strives to provide continuous digital solutions to its consumers. The award-winning telco has re-define the industry by innovating products in parallel to technology advancement. XOX is committed to expand locally and globally catering segmented target audience as well as promoting digital lifestyle to Malaysians.
About Cheetah
The "CHEETAH" brand was launched in 1979. Since then, the company – Cheetah Corporation (M) Sdn Bhd has grown over the years and more categories to include ladies, children, baby and life-styled casual wears under labels – Cheetah Ladies, Cheetah Junior, C.Union, C2 United, CTH Unlimited, Baby Cheetah and Arissa.
In addition, the company has two international Licensing brand – Ladybird and GQ. And it has an Exclusive Licensee contract with Focus Point Eyewear for eyewear frames.
---
For any media enquiries, please contact:
Fabian Narcis
E-mail: [email protected]
Mobile: 012-222 8950
Zuraida Malek
E-mail: [email protected]
Mobile: 013-621 1105